THE SALES EVENT OF THE FINNISH PAINTERS' UNION 9.3. – 17.3.2019
Kaapelitehdas, Merikaapelihalli
Tallberginkatu 1 c, 00180 Helsinki
The next Sales Event will be on March 2019. The same year Finnish Painters' Union will celebrate its' 90th jubilee.
---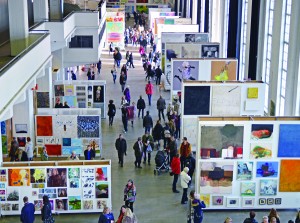 THE SALES EVENT OF THE FINNISH PAINTERS' UNION 9.3. – 17.3.2019
1700 artworks – 600 painters
The Cable Factory, Merikaapelihalli, Helsinki
The Sales Event is the biggest art event in Finland, organized every year in March at the Cable Factory in Helsinki. Over 600 painters take part in the exhibition, putting c. 1700 works on display. The Sales Event is a unique chance to get an overview of Finnish contemporary painting and to experience the variety of artists who are currently active in the field. All kinds of art styles and techniques are exhibited at the event.
The abundance of works has made the event hugely popular: it is always easy to find interesting and touching paintings. The buyer can take the works home immediately upon purchase, and it is possible to pay in installments without interest.
Open
Mon–Fri 12–6 pm, Sat–Sun 11 am–5 pm.
Kaapelitehdas, Merikaapelihalli
Tallberginkatu 1 c, 00180 Helsinki
Free entry. Welcome!
On Friday, March 8th, the exhibition is open for the members of the press and by appointment for the public.
Guided tours (in Finnish)
Sat 9.3., Sun 10.3., Sat 16.3., and Sun 17.3., at 12 and 2 pm
Information
Pekka Parviainen + 358 44 544 4449, pekka.parviainen(at)painters.fi
The Finnish Painters' Union
Erottajankatu 9 B, 00130 Helsinki, Finland
Check in advance some of the art works, that will be displayed at the Sales Event.
Facebook: Taidemaalariliiton teosvälitys
Instagram: www.instagram.com/tmliitto
Twitter: www.twitter.com/tmliitto